Address
23-25 Erskine Rd, Caringbah NSW 2229
Phone
1800 121 421
Email
info@campervanvillage.com
Opening Hours

| | |
| --- | --- |
| mon - fri: | 9am - 3pm |
| sat: | 9am - 11am |
| sun: | CLOSED |

Availability

pickup

dropoff

After-hours allowed

pickup

dropoff
*After hours pickup or dropoff may incur additional fees.
Sydney, the iconic Australian city, is a melting pot of culture, history, and natural beauty. Known for its stunning harbour and iconic landmarks such as the Sydney Opera House and the Sydney Harbour Bridge, Sydney is a destination that is sure to impress. Take a stroll along the famous Bondi Beach or explore the historic neighbourhoods of The Rocks and Paddington. Visit the Royal Botanic Garden, or take a ferry to the nearby Taronga Zoo for an up-close encounter with Australian wildlife. Foodies will love the diverse culinary scene, from casual seafood markets to high-end restaurants. With a bustling nightlife, world-class museums, and a calendar full of festivals and events, Sydney has something for everyone. Whether you're looking for adventure, relaxation, or culture, Sydney is a destination that can't be missed.
Plan your Sydney roadtrip today
Book online of contact our friendly travel team today to discuss your dream road trip in Sydney. We'll help you out with availability, a quick quote or to book your camper today.
Give us a call today.
1800 121 421 from Australia
0800 445 981 from New Zealand

Travel Ideas for Your Next Aussie Adventure
Whether you're looking for sun, sea, sand or snow, Australia has a scenic road trip destination to suit everyone. From day trips to extended journeys, here are 10 top picks to consider for your next getaway.
10 Must-Visit Campsites on Australia's East Coast
Australia is a camper's paradise. The country's natural beauty and diverse landscapes make it an ideal destination for those looking for a holiday that combines adventure, relaxation and stunning scenery. And the East Coast of Australia, in particular, has some of the best campsites in the world. From Queensland to Victoria, there are a plethora of places to park your camper or pitch your tent. In this blog, we've picked 10 great East Coast Australia campsites to help you plan your next camping adventure.
Places to check out around Sydney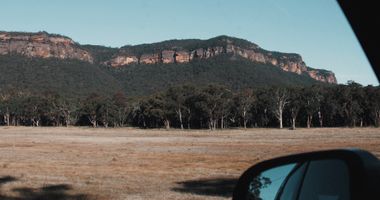 Blue Mountains National Park
One of the highlights of your trip will be the Blue Mountains National Park; a World Heritage National Park where you can discover Aboriginal Culture, breath-taking walking tracks, great camping spots, canyoning and climbing. Check out The Three Sisters at Echo Point in Katoomba but what I suggest is to leave the crowded tourist path and explore the hiking tracks down the valley - even better, take your campervan from Campervan Village Sydney, drive to a secluded region and camp there.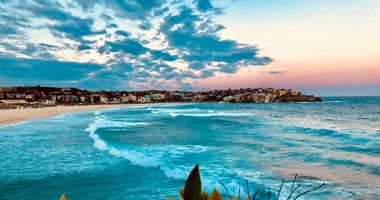 Bondi Beach
Around Sydney, there's plenty of beaches to visit, but none more iconic than Bondi Beach. Famous for being a great place to learn how to surf, park your campervan on the beachfront there and spend the whole day chilling out watching the many walks of life pass you by. There are plenty of shops along the main road and don't forget to have a look the Bondi Iceberg Club. Keep in mind that during the weekend Bondi Beach can get very, very, crowded.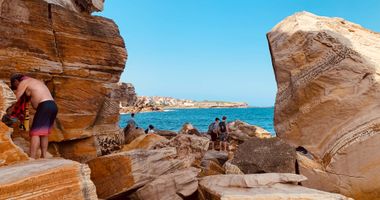 Coogee to Bondi Walk
From Bondi or from Coogee, a great walk to do before picking up your campervan is the Bondi to Coogee walk. Approximately two hours long, the walk features beautiful viewing points and will let you see all the pristine little bays between Coogee & Bondi; like Tamarama, Bronte and Clovelly Beach. If you are lucky, you can even see dolphins and whales swimming in the sea.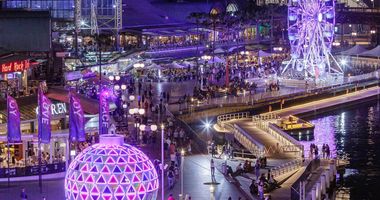 Happy Hour at Darling Harbour
If you've got a few hours to spare in the city before hiring your campervan at Campervan Village Sydney, Darling Harbour is a beautiful place to hang out and spend a few hours watching the boats cruise by and the hustle and bustle of city life. Little tip, make sure to time yourself with the Happy Hours to save a heap on beers!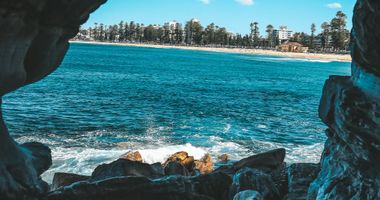 Manly (near Freshwater Beach & North Head)
If you are looking for another beach to escape the crowds at Bondi, the North Shore region has its own icon in Manly Beach - it's as beautiful as Bondi, seriously! Furthermore, there's Freshwater Beach a few minutes north of Manly Beach as an alternative. You can get to the North Shore of Sydney in your campervan by crossing the Sydney Harbour Bridge, but I strongly suggest going there in an iconic Manly Ferry, you won't regret it.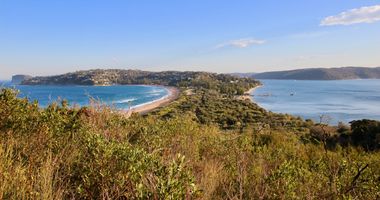 Palm Beach
Head due north of Sydney CBD for about an hour in your campervan and you'll be in a little slice of heaven known as Palm Beach (or 'Summer Bay' as some of you may know!). It's a spectacular beach with great surf and only a fraction of the crowds in Bondi!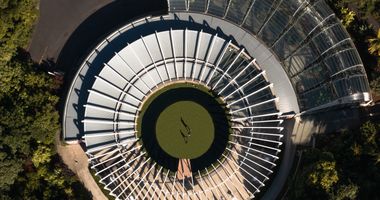 Royal Botanic Gardens (Opera House & Sydney Harbour Bridge)
One of the most important historic botanical institutions in the world, the Royal Botanic Garden of Sydney is a beautiful place to spend hours strolling around. And from one side of the park you can go see the iconic Sydney Opera and take a great picture. From the other side of the park, you can have a spectacular view of Sydney Harbour Bridge with the Opera House.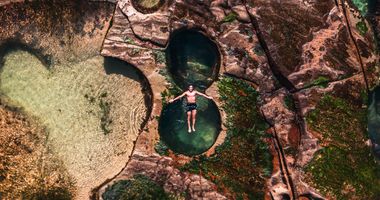 Figure 8-Pool, Wattamolla Beach
Another National Park, but this time south of Sydney, the Royal National Park is home to a magnificent cliff side view, picturesque rainforest hiking trails, beautiful Wattamolla Beach and the well-known Figure 8 Pool.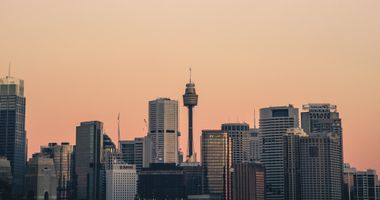 Sydney Tower
Finally, the best view in town would be from the Sydney Tower - right in the center of the Sydney CBD, you'll get to see this picturesque city from another point of view. You can go there only for the view, or you can grab dinner on top of the tower while looking out over the pretty lights in Sydney Harbour and the Sydney Opera House.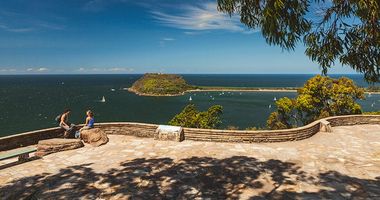 West Head Lookout
In the same region as Palm Beach, in the Ku-ring-gai Chase National Park, is the West Head Lookout. This location offers a great view over Broken Bay, especially during sunrise. And...there's a great camping area to park your campervan for the night.